One question that often arises for travellers to Scotland is whether tipping is expected or necessary. The simple answer is YES – if you feel you have received excellent customer service.
Although certain establishments will add a gratuity to the bill, this is discretionary, and you are free to increase or reduce the amount as you see fit.
Restaurants and Bars
When dining out in Scotland, tipping is generally expected in restaurants and bars. The standard practice is to leave a gratuity of around 10-15% of the total bill.
Hotels
In hotels, it is customary to leave a small gratuity for staff that you feel have provided outstanding service.
Taxis and Transportation
When taking a taxi or other form of transportation in Scotland, it's common to round up the fare to the nearest pound. If you're using a ride-sharing service like Uber, you can add a tip through the app after your journey is complete.
Tour Guides
If you're taking a guided tour in Scotland, it's customary to leave a gratuity for the guide. The amount of the tip can vary depending on the length and quality of the tour, but a good rule of thumb is to leave around 10% of the total cost of the tour.
Hairdressers and Beauty Salons
Tipping in hairdressers and beauty salons is a common practice in Scotland. It's customary to leave a gratuity of around 10-15% of the total cost of the service.
Other Services
For other services, such as dry cleaning or valet parking, tipping is appreciated. A small gratuity of a few pounds is a reasonable amount to leave.
What about contactless payments while travelling in Scotland?
Contactless payments are commonplace in Scotland, especially since the pandemic.
While it's worth checking with your bank or card provider before your travels – you should be able to make contactless payments up to a value of £100.
Providing a tip when you have received good service will always be appreciated.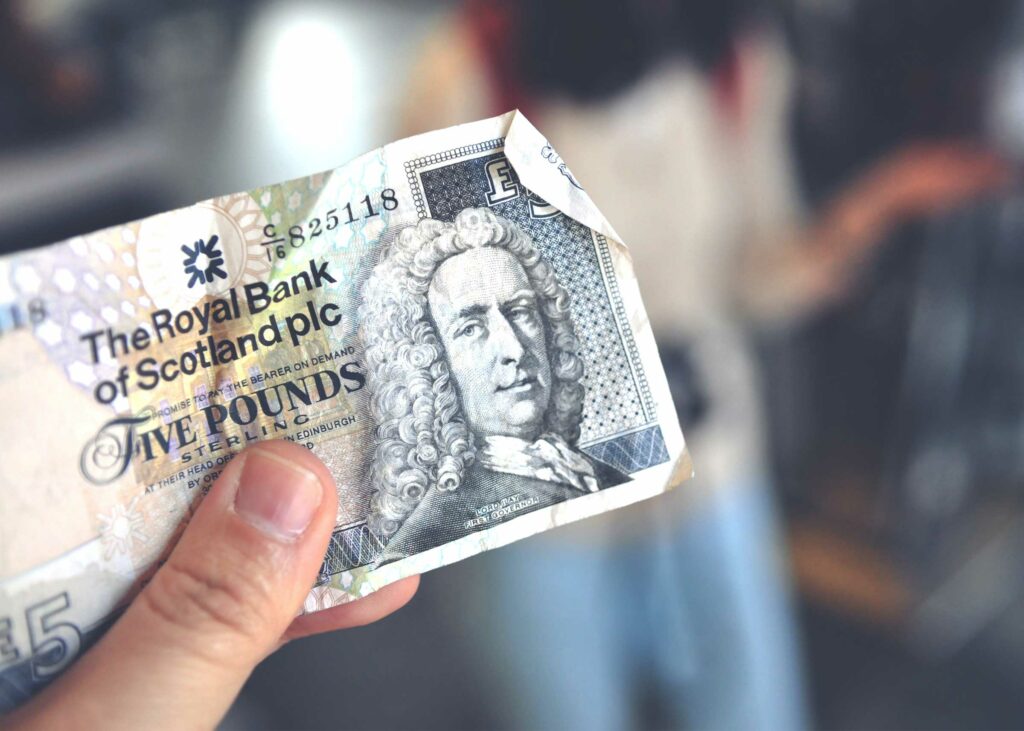 Scottish and English Bank Notes
While Scottish notes are legal tender throughout the UK, some businesses in England may be reluctant to accept them.
Online reviews
In a digital age, online reviews are also appreciated by service providers – especially when you have received excellent service.
Leaving a great review doesn't just help the service provider – it also helps other travellers to see where the best experiences are to be had!
Looking to plan your trip to Scotland, England, Ireland or France? Turas specialises in crafting unique travel itineraries to help you make the most of your vacation. Send us a message and we would be delighted to tailor a proposal for you.